Kimmeridge Bay | Kimmerage | Dorset | BH20 5PF | www.dorsetwildlifetrust.org.uk

Kimmeridge Bay, half a mile south west of the village of Kimmeridge via a toll road, features some of the most important geology anywhere on the Jurassic Coast. It also boasts some of area's most accessible marine wildlife. The natural limestone ledges extending out into the bay make it easy to view life on the shore and in the shallow waters, making it a wonderful location for rock-pooling.The Fine Foundation Marine Centre explores the exceptional marine life found on this part of the coast, and features interactive displays and a variety of aquaria.
The bay is also a superb location for a variety of water-based activities. The shallow, warm waters are excellent for snorkelling and diving, and are very popular during the summer months, with easy access to excellent dive sites such as the Underwater Nature Trail. There is little tide and not much current, making it great for beginners, while the comparative lack of sand helps ensure visibility is often excellent. Surfing and windsurfing are also gaining popularity in the area.
On the cliffs above Kimmeridge Bay stands Clavell Tower. The tower was built in 1830-1 by Rev John Richards Clavell who inherited the Smedmore estate. Originally built as an observatory and later became a coastguards lookout before falling out of use during the First World War. Endangered by cliff erosion, the tower was dismantled and rebuilt further back from the cliffs edge by the Landmark Trust in 2005-8. 
On the other side of the bay is an active oil well 'The nodding donkey' which has been in operation since 1961.
Some amazing fossils have been found in Kimmeridge Bay but you should be aware that hammering is strictly forbidden and you should only collect loose rocks from the beach.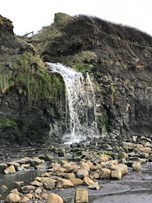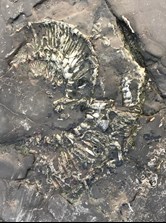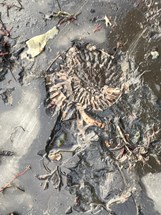 Kimmeridge Bay is a must-see for any trip to this region. From rock-pooling, walking to coasteering, photography to nature walks, or to just enjoy the stunning views. There's plenty to do and see here.